---
Montana Indoor Pistol Championship
April 16th was the date of the Montana State Indoor Pistol Championships. They were held at the Yellowstone Rifle Club indoor range. Most years see the championships held in more than one location in the state, but this year it was all at the YRC. Twelve shooters competed in three disciplines – Precision (NRA Bullseye), International Standard Pistol, and International Air Pistol.
The winner of the Precision championship and new State Champion is Don Strom from Whitehall. Don shot 848-23x in his winning effort. 1st Master is Jimmy Sutton shooting 843-21x; 1st Expert – Steven Waddell, Sheridan, Wyoming posting 825-15x; Wes Muller – 1st Sharpshooter with 831-17x; and rounding it out is David Jessen, Belgrade shooting 787-7x for 1st Marksman honors. Our Montana Lady Champion is Diane Vandiviere of Huntley.
The YRC Pistol team consisted of Gary Van Haele, Lew Muller, Jimmy Sutton, and Roman Gillitzer. They shot a combined score of 1122-22x to beat out the MR&PA team – Don Strom, Erv Rotering, David Jessen, and Eric Gillitzer, 1061-24x being their score.
Jimmy Sutton is the new International Standard Pistol champion shooting 542. Gary Van Haele of Hysham took 1st Master with 533, 1st Expert is Roman Gillitzer also firing 533, and first Marksman is Steven Waddell, 494. The high lady is again Diane Vandiviere.
Lew Muller defended his State International Air Pistol title this year shooting 525-3c. Close behind was his son, 1st Sharpshooter, Wes Muller posting 522-7c. Steve Waddell is 1st Marksman firing 501-5c.
Congratulations to our new State Champions – Don Strom, Jimmy Sutton, Lew Muller and Diane Vandiviere.
Thanks to Dan Kavanaugh, Statistical Officer and Steve Madsen, Range Officer for again officiating the tournament.
---
Precision and Air Pistol Sectional
The NRA Open Sectional Precision Pistol Championship was held at the YRC on March 19 with ten shooters competing. It was actually two tournaments conducted on the same day, Precision Pistol and International Air Pistol. The winner and recipient of the Gold medal in the Precision competition was Jimmy Sutton shooting 846–22x. Silver medal went to Duff Gray, 831-9x, and Bronze was won by Roman Gillitzer, 824-11x. The class awards were: Roman – 1st Expert, Duff – 1st Sharpshooter, and David Jessen, from Belgrade – 1st Marksman.
The YRC team members in the Precision competition were Jimmy Sutton, Lew Muller, Duff Gray, and Roman Gillitzer. They posted an aggregate score of 1087-23x.
The International Air Pistol Gold medal was won by Duff Gray shooting a score of 534-4c. Close behind was Lew Muller winning Silver with a score of 532-5c. Dustin Greenwood won the Bronze firing 529-9c. 1st Sharpshooter was Wes Muller with 497-1c and Steven Waddell from Sheridan, Wyoming shot a 490-4c to win the Marksman class.
The YRC International Air Pistol team posted a score of 1595-18c. The members were Duff Gray, Lew Muller, and Dustin Greenwood.
The YRC and the shooters thank Dan Kavanaugh, Statistical Officer and Steve Madsen, Range Officer for making the match a smooth running success.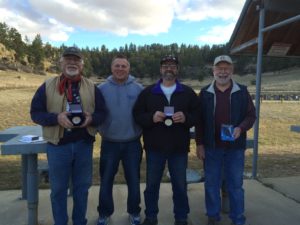 Roman, Duff, Jim, and Lew
---