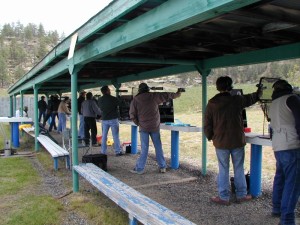 Pistol is shot every Wednesday night at 6:30 PM in the winter and summer. This is not boys only! – we generally have some ladies shooting with us.  Our Pistol Director is a certified Pistol Instructor and can really help you get on the right track if you so desire.  Check the calendar for the change from indoor to outdoor season. Air pistol is shot on Tuesday (Air Gun night) at 6:00 PM through the winter months.
The practice nights are informally formal. Meaning we shoot formal courses of fire with the proper range commands in an informal friendly setting. There is a winter league available for light competition. Various tournaments are held both here and around the state.
Both the outdoor and indoor ranges are computer controlled so the commands are very consistent.  Every type of pistol is in evidence – from entry level guns to some pretty exotic pieces of equipment. The club has three Rugers with fine triggers for members or guests to shoot if they don't have a pistol. So, come out and shoot and have some fun!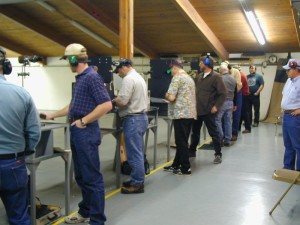 Watch a 1911 work in cutaway here!
For more information contact our Pistol Director.