Buffalo Rifle Gong Match
February 19, 2017
Winter prevented our gong matches in December and January, a first. Some of the guys had not shot since last August, complaining they needed remedial training. Still, some impressive scores were turned despite the lack of "trigger time." All four firearm categories were represented at this match, another "first." A couple of the guys should have put their buck into the Offhand Pot. If they had, there would have been a five-way shoot off to win pot. As it was, three were ready to decide the Top Offhand Shooter. Yours truly withdrew due to a lack of ammunition. Ron Vanden Brink and George Grossi stepped to the line. It took 3 shots each for George to break the tie, walking away with $7 which he generously split with his spotter.
2017-02-19 Gong Match Scores

---
2017 "Froze to Death"
January 1, 2017
The usual cast of characters (those owning long underwear) were present on the gong range to bring in the New Year with a healthy dose of smoke and noise. As usual, we set up a wind break around the covered bench rest and built a fire in front. A new game was added this year, "BPCR Horse"; just like basketball Horse, but played by varying shooting positions and targets! The lever-gun events were fast and furious with both contests being decided by time. Chicken bowling, shot offhand at 300 meters, proved to be a real challenge again this year; next year we'll shorten the range to 200 meters. Between events everyone feasted on goodies ranging from hot ham & cheese sandwiches to blueberry and apple pies. Awards were won by six different shooters, an indicator of how closely matched were the shooters.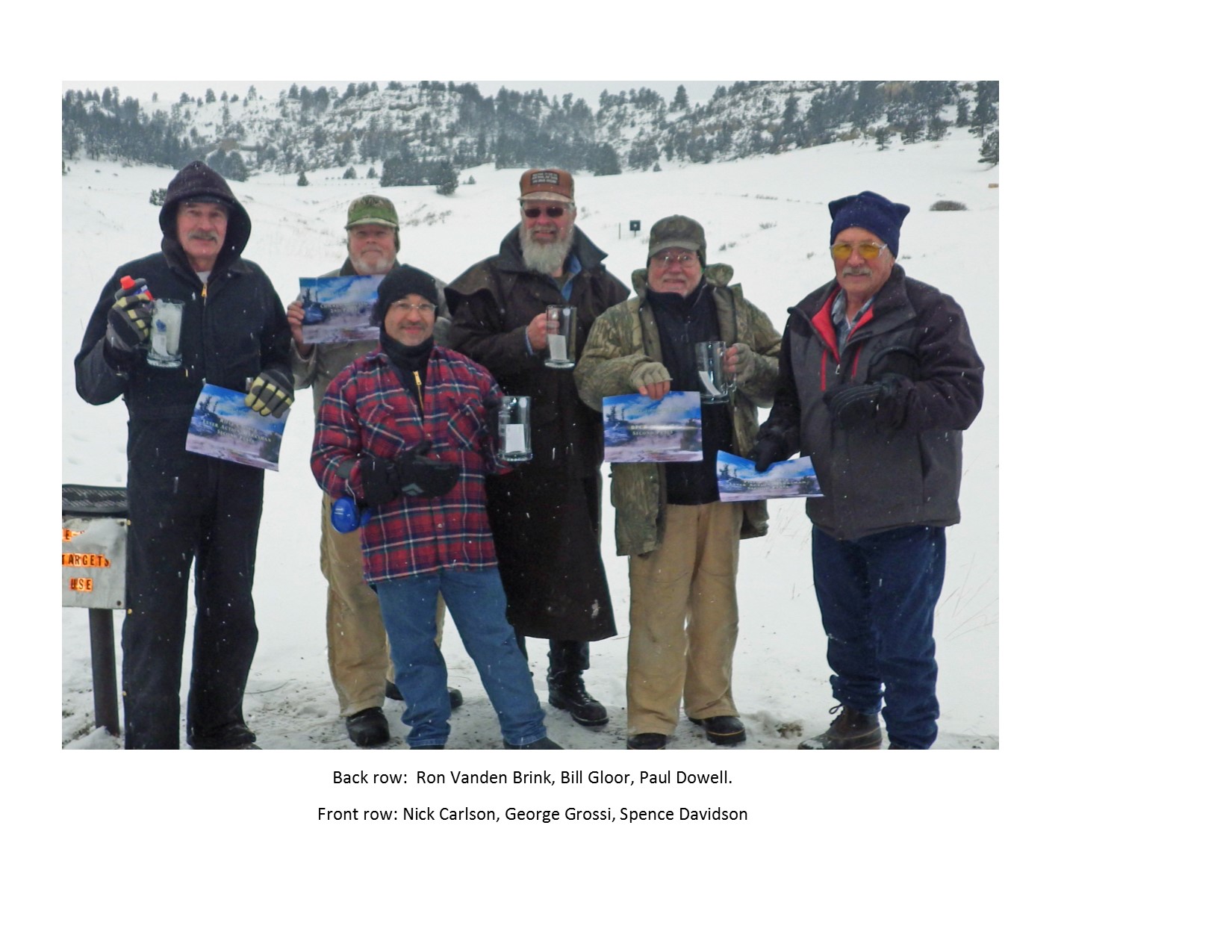 ---
November Gong Match & Turkey Shoot
A crisp morning and calm air greeted the participants who gathered to compete for gong match bragging rights and turkey shoot prizes. Ron Vanden Brink turned in the highest score on the gong range since adding the 8th target, "Little Round Top". He was perfect until the offhand target where Ron missed 2 shots. Ron also won the Top Offhand honors after a two-round shoot off with Stephen Toth. He then went on to win 3 of the turkey shoot prizes as well. Quite a day for Mr. Vanden Brink. Fine shooting was the name of the day, with a total of 5 competitors scoring 33 or higher.
A turkey shoot prize was awarded for each target as the gong match progressed. Winning criteria ranged from "top score" on the target, "low score", to "a hit on the target post trumps the high score." There was a lot of good natured banter throughout the day. As the sun went down and prizes were handed out, all agreed to meet at Ron's place for our Thanksgiving Day meal.
---
BPCR Gong Match
Sept. 2016 Gong Match

Many of the local buffalo gunners were elsewhere during the September match. This left the remaining, faithful regulars to content with very strong and directionally-challenged winds. Paul Dowell, of blustery Livingston, took top honors for the match and in the Top Offhand shoot off. Although seldom seen on the gong range these days, Mac Clark turned in a fine score, finishing second. George Jordan, the only Scope Class shooter, held his own, posting a score of 26. Wyatt Sims was Match Director, assisted by Dave Hoagland; thank you, gentlemen for stepping up to keep things running smoothly.
---
BPCR Gong Match
August 21, 2016
The buffalo gunners were introduced to a new target, "Little Round Top", range 352 yards, at the August 21 match. This newest addition to the gong rang is designed to challenge the shooters ability to hold a fine elevation line. Still, two competitors, Duff Sweeney and George Grossi, had perfect scores on LRT.
---
BPCR Gong Match
May 15, 2016
A number of buffalo gunners from around the area took advantage of this month's match to "tune-up" for the Quigley. . I'd say George Hudak was ready for offhand shooting anywhere, what with him shooting a perfect score of 5 during this match. Everyone must have been satisfied with their scores; I saw most of these people at the 2016 Quigley.
Iron Sights Class: Paul Dowell 32/2 offhand, George Hudak 31/5, Dan Walker 28/4, Ron Vanden Brink Iron 27/1, Bob Sprague 27/0/5 692 yard buffalo, Dave Hoagland 27/0/3, Dick Bills 25/1, Stephen Toth 23/1, Craig Baumgastuer 19/2, Clint Stagner 19/1, Bob Engelbach 19/0, Wyatt Sims 17/2, Kevin Homewood 17/0, Walt Tadsen 12/2, Mike Gams 9/0.
Scope Class: Bill Gloor 27/3, George Grossi 25/2.
Top Offhand: George Hudak 5 out of 5 possible.
---
Froze to Death Buffalo Rifle Match
January 1, 2016
2016 began with the best out turn in years for the Froze to Death buffalo rifle match. Sunny skies, a hot fire in the stove, shelter from the wind and a wide variety of goodies kept the 14 competitors happy and shooting their best. Here are this year's winners:
½ Silhouette Match – Iron sights class: Paul Dowell 11. Scope class: George Grossi 9
Offhand Pig Blast – Bill Gloor & George Grossi 4
Lever Action Marksmanship – Mac Clark 5 in 8.75 seconds, Duff Sweeney 5 in 10.81 seconds.
Offhand Chicken Bowling – Ron Vanden Brink 4.
---
BPCR Gong Match
December 20, 2015
"Foggy Bottoms"
Dawn revealed fog, a lot of fog, in town and elsewhere. Magically, it cleared right at the entrance to the Iron Wood estates. A handful of marksmen, those feeling lucky, made the trip to the range, enjoying a fog-free, sunny sight-in period. Half way through the pre-match safety briefing, the townsfolk shared some the mist. It rolled in over the rims, shutting us down, but just in time to paint the targets. Practicing the virtue of patience paid off. All targets were successfully engaged, with just two more mist-breaks during which lunches were eaten and hunting stories swapped.
Iron Sights Class: Ron Vanden Brink 30/1 offhand, Duff Sweeney 28/1, Stephen Toth 24/2, Dave Hoagland 22/1, Wyatt Sims 3/1.
Trapdoor Class: Bill Gloor 23/3, Stan Bayley 15/1.
Top Offhand: Bill Gloor 3 of 5 possible.
---
BPCR Gong Match and Turkey Shoot
November 11, 2015
Everyone was in top form during the gong match, probably anticipating the chance to win a turkey later in the day.  Ron Vanden Brink gave us a lesson in offhand shooting with a score of 4 out of 5 possible. Youth and enthusiasm won out over old age and treachery when Laurie Keller beat her dad, Rick Smith by tie breaker, having one more hit on the 692 yard buffalo than her ol' man.
Iron Sights Class: Ron Vanden Brink 31/4 offhand, Duff Sweeney 30/1, Dick Bills 29/1, Laurie Keller 28/1/4 692 yard buffalo, Rick Smith 28/1/3, Paul Dowell 27/2, Ed Schleichardt 25/0, John Miller 24/2, Bob Sprague 24/0, Wyatt Sims 13/1, Monty Haselhuhn 10/0, James Knight 8/0
Trapdoor Class: Bill Gloor 25/1, Stan Bayley 15/2
Top Offhand: Ron Vanden Brink 4 of 5 possible
Nine contestants went to the line to vie for turkeys, hams and chickens at the turkey shoot. The odds of winning were 66%, much better than any of the lotteries, and for only a $5 entry fee! Competition was fierce for the turkeys, with one bird awarded by coin toss after three rounds of great shooting.  Winners were: Turkeys – Paul Dowell & James Knight, Hams – Laurie Keller & Ron Vanden Brink, Chickens – Duff Sweeney & George Grossi.
---
Buffalo Rifle Gong Match
October 18, 2015
It is a good thing some of the regulars were gone hunting as we were "full up" and then some with 19 shooters on the line. Out-of-towners outnumbered the locals 10 to 9. Competition was stiff, especially for 3rd-5th places where 3 people shot 28's; ties are broken by comparing scores on each target, in decreasing order of difficulty, until a winner emerges.
Join us for the November Gong Match & Turkey Shoot on November 15th. $10 for the match and $5 for the turkey shoot which will be held immediately after the gong match.
Iron Sights Class: George Hudak 30/3 offhand, Bill Gloor 29/2, Paul Dowell 28/3/5 692 yd buffalo, Bob Englebach 28/3/3, Ed Schleichardt 28/2, Ron Vanden Brink 27/1/5, Stephen Toth 27/1/4, Dick Bills 25/2, Dave Hoagland 25/1, Bob Sprague 25/0, John Miller 24/2, Dave Lewis 22/1, Jim Finch 17/0, Charles Dyk 16/0, Samantha Boyd 13/0, Wyatt Sims 12/1
Scope Class: George Jordan 29/1, Fred Burgin 19/0
Trapdoor Class: Mark Boyd 17/1
Top Offhand: George Hudak, Paul Dowell and Bob Englebach with 3 each
---
July & August Buffalo Gunners' Report
While everyone else was at the 1000 Yard Championship in Forsyth, Bill Gloor & Stephen Toth enjoyed a quiet (metaphorically speaking) BPCR Silhouette match on July 12th. Stephen shot his first Triple A Score. Bill's shooting, on the other hand, just helped make Stephen look that much better.
August heralded the resumption of gong matches which will continue until June of 2016.  Wyatt Sims stood in as Match Director. The 12 competitors were the first to encounter the revamped posts and berms for targets 4-7. Comments were generally positive with some lamenting the narrower, harder-to-hit posts.  The top two shooters decided to shoot off for 1st place with Duff Sweeney of Boyd coming out on top.
Iron Sights: Duff Sweeney 26, 1 offhand, 4 692 yard buffalo, 5 600 yard square; Ron Vanden Brink 26, 1, 4,  4; George Hudak 25,1; Dave Hoagland 22,0; Troy Hoagland 20,1; John Miller 19,2; Byron Largent 17,1; Matt Hoagland 15,1; Jay Peters 12,0; Charles Dyk 11,0; Wyatt Sims 9,1.
Scope Class: George Grossi 24/0
Top Offhand: John Miller 2
---
Buffalo Rifle Gong Match
April 19, 2015
Ron Vanden Brink and Dave Hoagland stood in as Match Directors for a crowd of shooters eager for some practice before the annual "Quigley" in Forsyth. The Quigley is the largest gathering of competitive buffalo gunners in the world and it's held just north of Forsyth, MT, on Father's Day weekend every year. Thanks for Ron and Dave for doing a fine job running the YRC match.
Iron Sights: Ron Vanden Brink 29/2 offhand, Bob Sprague 28/4, Ed Schleichardt 28/2, George Hudak 27/1, Steve Martin 25/3, Mark Scott 24/1, Bob Engelbach 19/1, John Miller 18/0, Dave Hoagland 16/4 692 yd. buffalo/1, Troy Hoagland 16/1, Randy Ray 11/1, Wyatt Sims 9/0
Scope: George Jordan 26/2, Rich Jensen 14/1
Trapdoor: Stan Bayley 13/1
Top Offhand: Bob Sprague 4 of 5 possible
---
Buffalo Rifle Gong Match
March 15, 2015
Everyone was in good humor, enjoying the warmth of pseudo-spring weather. It was good to see the line full of locals, some of whom were back after recent "visits" to the heart surgeons. The walking wounded did shoot better than before their bouts of illness. No, I am not suggesting heart surgery as a way to improve your scores! Try practice, it is cheaper, more fun and far less painful.
Iron Sights: Ron Vanden Brink 32/4 offhand, Ed Schleichardt 27/1, Cheryl Pestel 25/2, Dave Hoagland 25/1, Troy Hoagland 18/1, Wyatt Sims 17/0, John Miller  15/0
Scope: George Jordan    Scope 26/2, Rick Pestel 21/1, Rich Jensen 13/2
Trapdoor: Bill Gloor 19/2
Top Offhand: Ron Vanden Brink 4
---
Buffalo Rifle Gong Match
February 15, 2015
The shooting line would have been full again if it weren't for some people believing what they was out of their windows instead of trusting the weather radar. Those who did show up were treated to a nice day with little wind. The first squad gave the rest of us a Masters Class in offhand shooting. Well done gentlemen! Obviously, yours truly was not paying attention.
Iron Sights: Paul Dowell 28/1 offhand, Patrick Menahan 27/3, Bob Sprague 25/2, Stephen Toth 24/3, Dave Hoagland 23/3, Dick Bills 16/4, Randy Ray 14/1
Scope: George Jordan 30/3, George Grossi 29/2,
Trapdoor: Bill Gloor 24/0
Top Offhand: Dick Bills 4
---
Buffalo Rifle Gong Match
January 18, 2015
The shooting line was practically full, a great way to start the New Year's first gong match. We had a gallery of four spectators who kept us busy with questions. We hope to see them on the firing line. Ron Vanden Brink had me thinking the bottle of brandy would be opened to celebrate the 1st perfect score on our range. Alas, he dropped two shots on the offhand target scoring 33 of 35 possible. Some day…
Iron Sights: Ron Vanden Brink 33/3 offhand, Paul Dowell 31/2, Duff Sweeney 24/1, Clint Stagner 22/4, Bill Graves 22/3, Dave Hoagland 20/2, Wyatt Sims 20/1, Chelsea Hoagland 16/1, Vic Retleman 31/1
Scope: George Grossi 28/2, George Jordan 24/2
Trapdoor:  Bill Gloor 22/1
Top Offhand: Clint Stagner 4
---
Froze to Death Buffalo Rifle Match
January 1, 2015
Beef stew, chili and meat balls. Oh my! Those savory dishes, hot drinks and more awaited the 8 buffalo gunners who braved the cold and wind. A huge plastic tarp formed a wind break around the silhouette range covered benches.  The wood stove was quickly moved into position and things got down to business. The silhouette match had some stiff competition. Silhouette-virgin Stephen Toth took the iron sight class honors. Stephen partnered with Bill Hensley, another "newbie" to walk away with the offhand Pig Blast after a shoot off. Bill Gloor, shooting his replica 1876 Winchester in 50-95, won the Lever Action Marksman event. Not to be out done, Ron Vanden Brink set a new first-shot record in the 300 meter offhand Chicken Bowling with 8 downed birds.  Awards and food were passed out following each event. This year, there were some nicely engraved glass mugs and certificates for the winners, which might have had something to do with the high scores. Ya really shoulda been there.
1/2 Silhouette Match -Iron sighs class: Steven Toth 10, Ron Vanden Brink 9, Dave Hoagland 7, George Grossi 6, Wes Thatcher 3, and Troy Hoagland 1. Scope class: Bill Gloor 14.
Offhand Pig Blast – Stephen Toth & Bill Hensley 5, George Grossi & Bill Gloor 4, Ron Vanden Brink & Troy Hoagland 2, Dave Hoagland & Wes Thatcher 0.
Lever Action Marksmanship – Bill Gloor 2, George Grossi 1.
Offhand Chicken Bowling – Ron Vanden Brink 8, Stephen Toth 5, Troy Hoagland 4, Dave Hoagland 3, Wes Thatcher and Bill Hensley 0.
---