The Yellowstone Rifle Club was founded at the beginning of the twentieth century  by a group of competitive shooters looking to pursue and grow their sport by joining together with their love of shooting, and personal sacrifice to form the club that exists today.  The YRC continues to survive and grow through their efforts, all those since then, and our current members that hold these same values.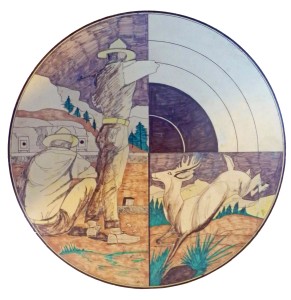 YRC Logo by Ben Steele
The Yellowstone Rifle Club was chartered by the National Rifle Association on January 21, 1920. The club is located at 7212 Molt Road west of Billings, Montana. The Yellowstone Rifle Club first occupied our present property in the early fifties.  The Yellowstone Rifle Club is affiliated with the National Rifle Association, the Montana Rifle and Pistol Association, and the Civilian Marksmanship Program.
The YRC has produced many champion shooters in all of the competitive disciplines throughout the years, including several Olympians, and National Champions.
The Mission of the Yellowstone Rifle Club
The object of this organization shall be the encouragement of organized rifle and pistol shooting among citizens of the United States, resident in our community, with a view towards a better knowledge on the part of such citizens of the safe handling and proper care of firearms, as well as improved marksmanship. It shall be our further object and purpose to forward the development of those characteristics of honesty, good fellowship, self-discipline, team play, self-reliance, and the right to keep and bear arms, which are the essentials of good sportsmanship and the foundation of true patriotism. It shall also be our object to engage in friendly shooting competition, exchange views on guns and gunning, and enjoy the camaraderie resulting from an association of good sportsman with a common interest in firearms.